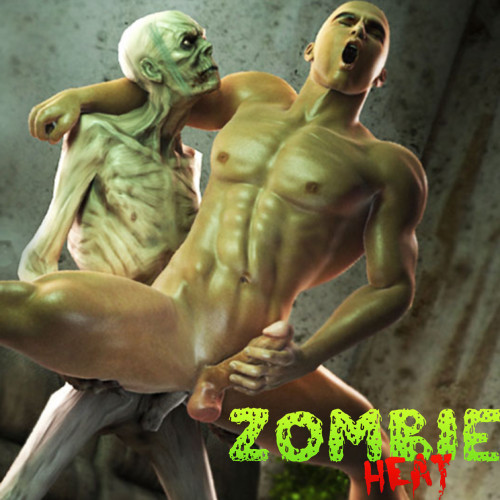 I'm sure in your time, much like myself, you've come across some questionable 3D porn games and videos. I'm talking aliens, monsters, humanoid animals... you name it. And I bet a small part of you liked it, right? If that's the case, then you'll love Zombie Heat.
Zombie Heat is a sex game that takes place during a zombie apocolypse. If you want to discover all there is to know about this awesome game and get our full review, read the rest of the article!
What is Zombie Heat?
To put it simply, this game is a monster fucking gay sex game. As the zombie apocalypse starts, you'll be filled with panic and uncertainty, until you start to realize that what the zombies want isn't brains… it's head! Well, and also brains when they're done with your asshole.
In this game, the aim is to fuck as many zombies as you can before they fuck you: if you manage to cum inside them, they will be destroyed. However, if they get to your asshole first, they'll try to eat your brains when they're done with you! So when playing this game, the golden rule is "fuck before you get fucked".
Discover your next freaky fetish!
Whether you've already given monster porn a go or not, it's time to give it a fair go with this sexy game. Let these zombies help you discover just how arousing it can be to watch a rapid, crazy monster go nuts on your tight little asshole. The sound effects and noises the monsters make while fucking you will definitely not leave you bored. You'll love watching them lose their stupid minds as they cum inside your asshole!
If you are lucky enough to get to them first, waste no time: put your dick in from behind and start pounding. The harder you pound, the more likely you are to kill him when you shoot your load, so don't hold back if you want to keep your brains!
What about the graphics?
If you've ever seen a zombie film, you know what they look like: grey, with patches of skin missing, sunken eyes, and they growl. And that's exactly what they look like in Zombie Heat! They're super realistic and will have you thinking you're watching a big budget animated film! The characters you play as are also very well-made, with hot, muscular bodies and dicks to die for (literally!).
Trust me, you won't be able to look away once you see how crazy these zombies go for the hot men they are getting pounded by. Their zombie cries just make the sex even more feral and exciting !
Final thoughts on Zombie Heat
So to conclude, this is an excellent gay sex game for those who love monster porn. If you're into anything unconventional, like humanoid creatures or aliens, this game will probably please you too. Don't waste time playing boring sex simulators, go straight to the good stuff!
Zombie Heat is a 10/10 if that's what you're into, and is probably my favourite monster porn game I've played in recent years. What are you waiting for? Don't just take my word for it! Play Zombie Heat now and try to fuck as many zombies to death as you can before they take over the world.
Pros
Monster porn for lovers to unconventional practices!
A fun gameplay
Excellent graphics
Specifically for gay men
Free to play
Cons
Some very intense and hardcore scenes
SIMILAR GAMES