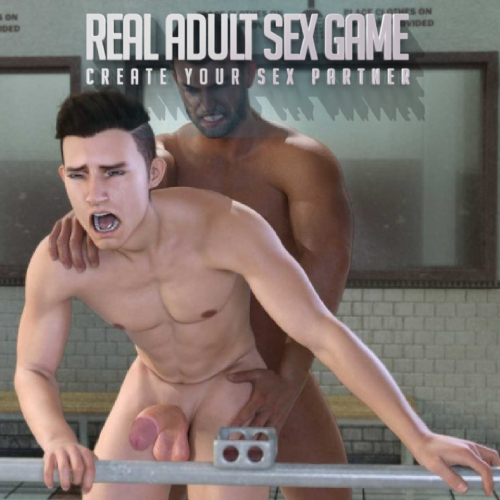 For those among you that have ever taken the time to peruse a porn game website, you've probably already come across a pretty popular game called Real Adult Sex Game. RASG is a well known sex emulator, with some pretty breathtaking graphics and a fun gameplay.
Today, we'd like to talk to you about this fabulous games gay brother – Gay RASG! This game is totally awesome, and has all the advantages of RASG, but tailored to gay men.
Thanks to the reputation of RASG, we already know we're in for a treat : good graphics, hot guys, and a really great sex simulator. Read on to discover our full presentation and opinion of this amazing game.
Presenting: Gay RASG
Well as you probably have gathered from the introduction and, well, the game's pretty intelligent title, this game is a gay sex simulator – and a great one!
To put it in to as few words as possible, Gay RASG is a porn game where the aim is to have as much sex with as many hot guys as you can. You'll also love trying out all the positions and different sex acts to find your favourites!
There's a huge variety of hot guys to choose from, all of them hot and all of them horny for your cock. How will you know which one is your favourite if you haven't given them all a shot?
Gay RASG wastes no time in getting down and dirty : as soon as the game starts, the sex starts. There's no messing around, it's a straight-up sex sim for your most depraved fantasies – we guarantee you won't last 30 seconds before you bust a load.
The Gameplay
When it comes to the gameplay, you'll find yourself in a very similar situation to when playing the regular RASG. Basically, there are no whistles and bells, no side quests or golden leaves to collect, all this game wants is to get you off hard and fast.
As we already said, the game wastes no time: at the beginning of the game, you're already asked to pick and customize your first sexual partner. Customizing your partner provides hours of fun, and you can keep switching things up at any time of the game. You can choose things like his tattoos, his hair colour, his physique, and even his cock size! The possibilities are endless and allow for hours of fucking with a plethora of different guys, all different but all just as sexy as the last.
Once you've designed your first playmate, you can get down to the good part. Select between a variety of sexual actions and practices, and have violent, torrid sex until you pass out. With so many acts to pick from, such as anal, blowjobs, fingering, anilingus and more, it'll be a long time before you get bored. Every guy in the game is different, and will need to be treated differently in order for you to make him cum!
Gay RASG's beautiful graphics
This game is, as we've mentioned, breathtakingly realistic. The 3D models are insanely well-built, and the guys immediately made me start salivating. I was so absorbed in the game that I forgot I was playing a game for a minute… and that was a great minute.
The models are super reactive too, and the AI is incredible. Like I already said, every guy is different, and subtle changes in his facial expression will let you know when a guy is close to cumming, so don't look away!
Gay RASG : Final Thoughts
To put it in the simplest way possible, Gay RASG is a fantastic gay sex simulator and the perfect gay alternative to the regular RASG. It's a beautifully crafted and totally realistic emulator, with impressive models and sound effects to really transport the player.
Why not try it for yourself ? Give Gay RASG a try for free today!
Pros
Realistic 3D models
The name RASG means we know what to expect
Registration is free
Hot and steamy sex scenes with no time wasting
Cons
You have to be 18 to play
SIMILAR GAMES