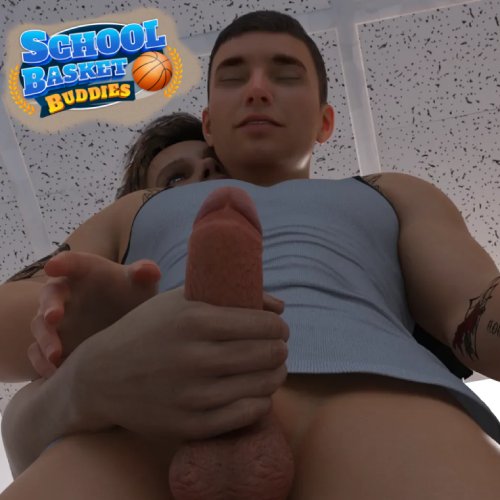 I don't know about you, but I've always found the boys locker room to be a very homo erotic place. Sweaty guys, alone, showering together after a strenuous workout... It's only a matter of time before things take a gay turn! And that's exactly what happens in School Basket Buddies. In this 3D gay sex game, discover the bodies of the other young curious men in the locker room without shame.
To get all the details on this game, read on - we'll be discussing the gameplay, graphics, and diving into what makes this game such a joy to play for anyone, not just gay men.
What is School Basket Buddies?
School Basket Buddies is a high school visual novel style gay sex game. It centres around Toby, a young guy discovering and exploring his sexuality. Toby has a huge crush on Axel, the most popular boy in school, and it's your job as the game master to make them end up together ! Help Toby's dreams come true and get Axel to fall in love with him. Answer all the questions correctly, and it should be a piece of cake!
You'll discover little by little that Axel definitely swings both ways too, and he's not exactly subtle about it! So use every talent you have at your disposal to get him to fall for Toby. After all, you get to watch if they do get together...
School Basket Buddies graphics
As we all know, if any of you are also familiar with visual novel style games, they have a huge advantage in that they use mostly static images. School Basket Buddies however shines even considering this fact: the stills are really beautiful, and the 3D models are very well crafted. There's never a time when you think, "damn, that looks pretty fake". You're easily swept into the game, and the realism really aids in this.
The music score and sound effects are also pretty good : the whole things has a voice-over, which makes it almost feel like you're taking part in a 3D porn movie! It feels so realistic and man, it made me horny.
What about the gameplay?
The gameplay is really simple and effective. If you've ever played a visual novel game before, you'll have a rough idea of what to expect. Basically, the game consists of images and text, and you click through to get the full story. Sometimes you'll be asked questions with multiple choice answers, and those may affect the outcome of the story, just like in any game of this type.
Click through the images to find out what Axel and Lucas have been getting up to in the boy's bathroom, and discover how you can make Axel start doing the same with Toby!
Our final thoughts on School Basket Buddies
School Basket Buddies is a great game for gay men looking for a fun, free 3D experience that's got a good storyline. The sex is really exciting to watch, and the story of Toby and Axel is very compelling. It's hard to keep a soft dick when watching these boys "help each other out" in the bathroom when they get a bit too turned on...
What are you waiting for? Try School Basket Buddies now and help Toby get the man of his dreams to satisfy his sexual appetite!
Pros
Beautiful 3D models
A compelling storyline
Great voice acting
Relatable characters
Free to play online
SIMILAR GAMES