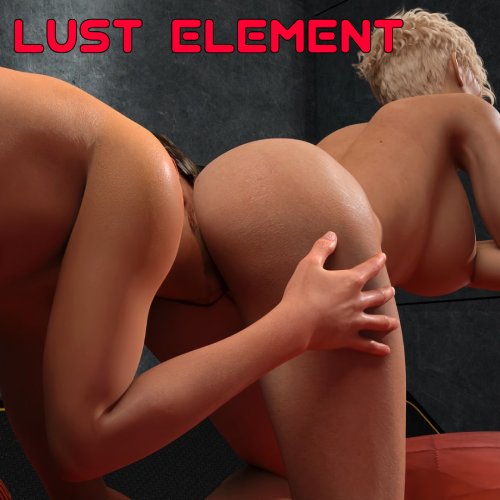 As you may be aware, many games labelled as gay porn games feature as the main event, girls with big dicks. That's the case for games such as DickDolls and Shemale Sex Game, as well as the next game we'd like to tell you about: Lust Element. This game features some of the hottest, big-dicked women you can imagine in an awesome futuristic sci-fi setting.
Let's not waste any more time! We'll get down to business discussing this game's themes and gameplay, as well as its visuals, graphics, and even sound effects before giving you our final verdict. Strap in!
What is Lust Element ?
Lust Element is a 3D porn game centred around fucking shemales. You take on the role of the captain of a new age spaceship, and the crew are all hot girls! Only problem is... you're very gay. I guess that's why you were picked for this mission, to avoid distraction! However, you'll soon come to find that all is not as it seems on this ship.
As you're walking past the showers one day, you get a glimpse of one of the girls changing and... what? She has a huge cock! Taken aback and rather horny, you slip away unnoticed to take care of yourself in your quarters.
This game is all about seducing these transgender women, and getting them to let you have a turn of their huge cocks. They're only to happy to oblige once they know it's what you've been craving!
Lust Element: a stunning Sci-Fi visual novel
The developers of this beautiful game spared no expense, making it look fantastic. Not only are the 3D models of the characters extremely well built, be it your male character or the different shemales and their wonderful dicks, but also the backgrounds and environments. The ship is really well crafted and reminds us of games such as Halo or Portal 2 in its design.
As the only guy on the ship, you discover that all the crew are women with dicks, and spend the rest of the game being the only man who can satisfy all these horny shemales. They come to you night and day and ask for your help!
The sex scenes are incredibly realistic, with moans and shrieks of pleasure coming out of these girls that'll make you question yourself. Don't waste time, get playing it now!
How to play
To play Lust Element, you must download the game first. We know, that can be a slight annoyance, but trust us, it's worth it. There's a reason some higher end games must be downloaded, and it's simply because the game is a large file containing lots of detail, beautiful models and a fun storyline. This means they often can't be hosted online, sadly, but it also is a marker of good quality.
Once you've downloaded the game, all you need to do is install it and boot it up, and voilà, you're in! No registration is required, which is nice.
Final Thoughts on Lust Element
This game combines multiple elements from different styles of game to create one really great experience. Set in a sci-fi world, it's a visual novel inspired masterpiece. The visuals and sound effects are hyperrealistic, and the setting in which you're the only man for all these shemales is crazy arousing.
Why not try it for yourself ? Download Lust Element for free today and see what we mean!
Pros
Amazing 3D models of beautiful shemale bodies
A fun and compelling storyline
The setting is amazing
A complete game with multiple facets
Free to play
SIMILAR GAMES