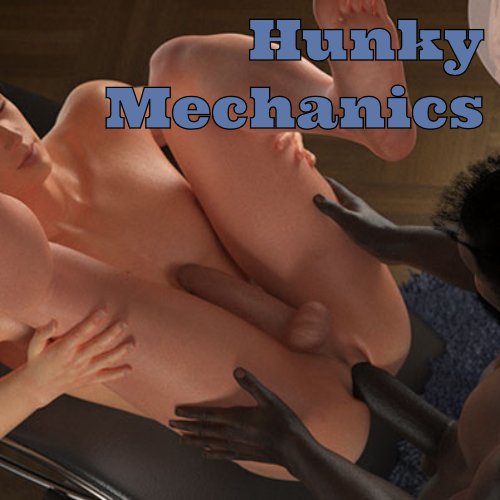 Some professions are just inherently sexy: fireman, doctor, police officer, and for many, mechanic. I don't know, there's just something so sexy about a strong man covered in grease... anyway, that's why I love Hunky Mechanics. This game puts you in the position of either a mechanic or a customer, and you'll soon be enjoying a fun time, whichever role you pick.
Let's dive deeper into this game, as we take a look at the graphics, gameplay, and give our honest review of all of its facets.
What is Hunky Mechanics?
Hunky Mechanics is a 3D gay sex game that centres around sex with hot, greasy muscular mechanics. Enjoy loads of different sex practices and positions with these hot and sweaty guys in their garage. They'll bend you over the bonnet of whatever car they're working on and have you yelling like an animal in no time.
This game is a high quality sex simulator, with amazing graphics and a fun story. The game takes place mostly in a garage, where you can play as a mechanic or a client, whatever you decide.
What is the gameplay like?
To play Hunky Mechanics, all you need is a good internet connection and a computer. This game is playable entirely online and for free, so don't waste time getting your rocks off.
The game begins with you deciding whether you want to be a mechanic or a client: which ever option you pick, the sex will be just an exciting. I chose to be a client, so I can flirt with the hunky mechanics!
You enter a kind of dating simulator in visual novel style, but in full 3D. You must seduce the mechanics by picking the right answers in order to get to the sex scenes. The sex scenes are in full animated 3D, and you have freedom to direct how everything happens. You can choose fellatio, anal sex, or even try tying each other up! There are plenty of possibilities to get the ball rolling.
Hunky Mechanics graphics
This game is visually incredible, that's for sure. Whether it's the static images during the dating simulator visual novel sections which feature beautifully hand painted backgrounds with 3D models overtop, or the full animated sex scenes, they're sure to blow you away. These mechanics are truly hunky, and truly realistic !
The sounds and moans they make do nothing if not add to the realism and make the player even more aroused. Listen to these guys shriek and moan as they bend you over the bonnet of a sports car...
Our final opinion
To conclude on this awesome sex simulation game, there's pretty much nothing that could be improved. It has a fun concept that's out of the ordinary and takes is away from a regular sex emulator by making it only for mechanics, but it's also a feast for the eyes and the ears. Honestly, it's a solid 10/10 with nothing I could possibly say to improve it.
So what are you waiting for? Register online free today to play Hunky Mechanics and start getting pounded by sweaty, muscular guys in their garage. What could possibly be more arousing?
Pros
Stunning 3D models
Gameplay centred around a sexy profession!
No download required
The game is completely free
Amazing sound effects and graphics
Cons
Some of the sex scenes can shock sensitive players
SIMILAR GAMES