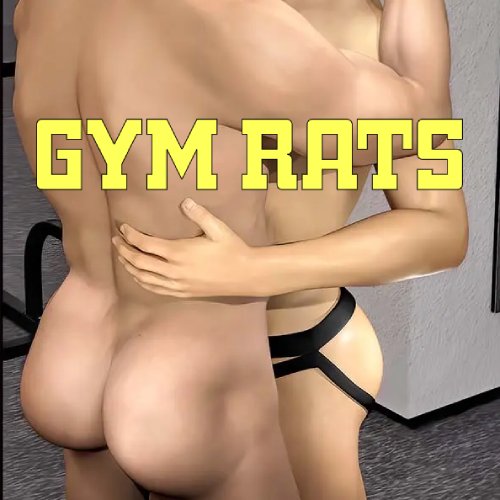 Some of the best gay sex games out today are around themes such as locker rooms and secrecy. While some gay sex games simply exist to be high quality sex simulation games, some also try and involve an interesting story and even explore different relatable themes, such as how hard it can be to keep your sexuality on the down low. One of my personal favourite games of this genre is Gym Rats. This game is all about the secret stuff that goes on in the local gym locker room. It's pretty intense and very sexy, so lets get into it!
Firstly we'll discuss the storyline and themes of the game, then we'll get into the graphics, before giving our honest opinion on the game as a whole. Strap in for a wild and sexy ride!
Gym Rats: a gay sex game about secrets and denial
Some of the best gay sex games such as Everything Changes and School Basket Buddies explore interesting and relatable ideas, such as coming out and discovering your sexuality when young. This is something we really love about Gym Rats too: it's all about discovering your sexuality, and trying to keep it secret and contained only within the confines of the local gym locker room.
In this game, you'll spend a lot of time working out and getting ripped, while watching the other hot guys get sweaty, and see the beads of sweat drip down their beautiful muscular bodies. Don't worry, they're looking at you too! And you'll notice: eyes boring into you as you lift more and more weight and get sexier by the day.
What's the gameplay like?
You start out by peeping on other gay men in the shower: watch as these guys clean each other, and rub soap all over their bodies. The cleaning soon turns rather erotic, as they start touching each other and discovering what being a gay man at the gym is all about! You eventually get caught watching while giving yourself a little treat, and are invited to join.
Slowly, you'll discover just how much you like sex with other men, and how soft and gentle these guys can be. Let them show you the ropes as you perform different acts such as fellatio, anilingus, all the way up to shower sex with this beautiful men.
The sex scenes let you have control over what you want to do: you can select options on the screen, and your character will ask the men if they would like to perform the act with you - and they'll almost always be up for anything!
Gym Rats: a feast for the eyes and the ears
Not only is this game fun and relatable, but it's visually and audibly amazing. The 3D models are crafted to perfection, with beautifully carved bodies with big round asses. Every care has been taken to make these men look as attractive as possible, and it shows! You'll not be left feeling indifferent when you see these gorgeous guys inviting you to join them.
We'd also like to mention the sound effects: a variety of sound clips taken from high quality porn films have been used to make this game as realistic sounding as possible, with as little repetition as possible. It's extremely arousing to say the least!
Our final thoughts
To conclude on Gym Rats, this game is an epic story of discovering the joys of gay sex. You'll discover your sexuality in a romantic way, and in beautiful 3D. We can only recommend you try this game as soon as possible!
This game is 100% free and can be played in-browser, so don't wait! Try it for free today.
Pros
A relatable and fun storyline
Beautifu 3D graphics
Sexy and romantic men
A high quality game
Free to play online
Cons
You must be over 18 to play
SIMILAR GAMES