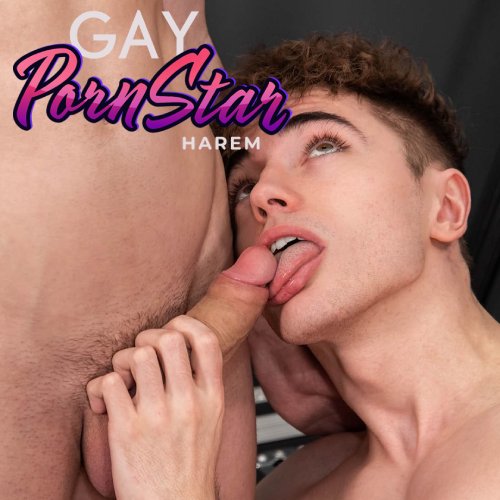 Pornstar Harem is a pretty popular sex game for many reasons. Most notably, because it features real pornstars, and real moving images instead of 3D animation. This is a pretty rare and impressive feat for online sex games, so it seemed only fair that they create the equivalent for their gay audience: and they did! Gay Pornstar Harem is an amazing live action video game that'll have you cumming in about 30 seconds, we guarantee it.
Read the full article to find out how this live action works, what the gameplay is like, and get our honest and full review on this popular game.
What is Gay Pornstar Harem?
Gay Pornstar Harem is a game based off the original Pornstar Harem, but featuring only hot gay guys. It's mainly a sex emulation game in which you'll be able to control sexy men, and tell them what to do to each other - but it's also got much more to offer than just sex!
As the name suggests, you control a harem of male pornstars, and you must make this empire flourish. Teach your boys well, and let them practice with you, and before you know it you'll have a booming sex video business and a harem of hundreds of hot and capable gay men ready to make videos for you.
You also have a little side hustle of making a cam sharing website: teach your guys how to please other men through their webcams, what to show them, how to frame everything etc. This will make up a significant part of your income in Gay Pornstar Harem, so don't neglect it!
What's the gameplay like?
Besides being super arousing, the gameplay is lots of fun. For the porn empire part, it's mostly a lot of training potential stars. This means, sex emulation! You get to pick the sexiest guys to be a part of your empire, and let them practice their skills on you. Teach them what they could be doing better, and how to really learn their way around a cock to give a man nothing but pure pleasure.
There are also some elements of organization and budgeting to the game, which is common for a porn tycoon type game and provides a lot of fun.
When it comes to the webcam training, it's pretty similar to the pornstar training, but with a few differences: you must teach your boys how to be sexy without actually touching a man! That means they have to train to stay in shape, and what to show on the screen to keep men paying for their online services.
What are the visuals in Gay Pornstar Harem like?
The visuals, as we've already stated, are fully live action. There's no 3D animation or 2D cartoons to be seen in this game! Only hot, sweaty pornstars. Wow. It's quite a feat for a game to be fully live action, and something not many games have dared try and do, but Gay Pornstar Harem does it very well. It adds to the realism while being on theme with the pornstar idea. Furthermore, it makes the idea of making a porn film feel more achievable and realistic.
Final thoughts
To bring this article to a close, I'd first like to say that this game, in my honest opinion, is a 10/10. Nothing has been left to chance, and every detail has been taken care of by the developers to assure a fun and complete experience for players. The guys are hot, the visuals are stunning, and the gameplay has multiple aspects to it.
Don't wait any longer! Try Gay Pornstar Harem today and get your rocks off.
Pros
Full live action graphics
Multi faceted gameplay
Free to play
Gay men only!
Fun and distracting for hours on end
SIMILAR GAMES