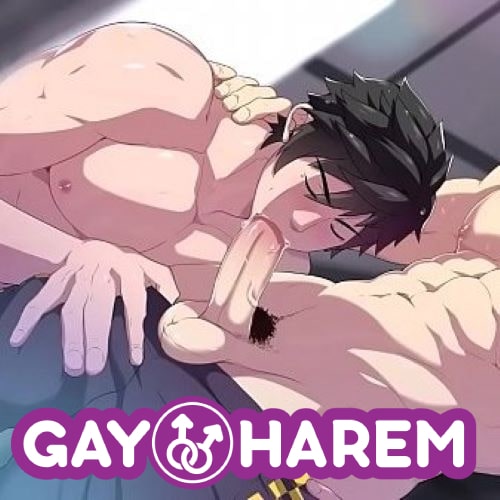 What do you get if you cross Japanese manga style visual novels with gay sex? Well, Gay Harem of course! This amazing gay hentai game is so beautiful you'll be hooked in no time, trust me.
Today we'll be exploring all aspects of this game, notably its graphics, gameplay, pros, cons, and what makes it so special. If you're into hentai, gay porn, or both, you'll definitely love this game. Let's dive deeper into why we love it so much.
What is Gay Harem?
Gay Harem is a free online gay sex game. Designed to look like a Japanese manga, the graphics are truly beautiful, and you'll notice they were crafted with love by super talented artists.
You might have already heard of the game Hentai Heroes, which is sort of the heterosexual version of this game. Although not created by the same team, it shares many similarities, which will become apparent during gameplay.
Registration is quick and easy, and it'll only take a few minutes before you can start taking advantage of everything this game has to offer without shame. However, it's important to note that the game is reserved for those of you that are over 18, since it's pretty graphic and sometimes violent in nature. It's also not recommended for people suffering with heart problems or with a history of seizures.
What's the gameplay like?
So, as we've stated, the gameplay is pretty similar to that of Hentai Heroes. If you're unfamiliar with this game, allow us to give you a bit of detail.
Gay Harem revolves around a high school student looking to experiment and have some explicit fun. This will be the catalyst for your character undertaking a journey to reach sexual satisfaction, while having different kinds of wild sex with as many men as possible. Puzzles and challenges are offered up, and in exchange for completing them, you'll get to have sex with more guys. Every guy who you successfully satisfy then becomes part of your harem!
The more challenges you complete, the more customization options are available to you, as well as "level-ups" in different sexual acts. You can level up regular things like blowjobs and anal, or you can use your reward points to learn new, dirtier acts!
How to play Gay Harem
To play Gay Harem, very little is required. One of the best things about this game is that It's compatible with most cell phones, so you don't even need a computer to start having some fun.
The whole experience of Gay Harem is easy and fluid. No download is required whether you're on phone or computer. We recommend playing on PC, just so you can fully appreciate the beautiful graphics and art style.
Simply click on the link on this page, and start playing for free without delay!
Gay Harem: a beautifully crafted sex game
It's no secret that to be successful, a game has got to be pretty good-looking. To get people sweaty and horny, the job is easily done for a realistic 3D game like DickDolls. However, when it comes to 2D images like hentai games, there's a little more work to be done. Gay Harem doesn't shy away from this work, and has definitely made every effort to make the game as sexy as possible!
Either you're a hentai lover, or you will be after you play this game. The drawings are impeccable, and the artists behind them are incredibly talented. The men's bodies were drawn to perfection, with beautiful six packs and huge throbbing cocks galore.
Whatever kind of guy you like, you'll find him in Gay Harem. Throughout the game, there are tons of different types of guys to have sex with, each one sexier than the last.
We will say that the soundtrack leaves a little to be desired – after a while of playing it becomes somewhat repetitive (although very arousing!).
Gay Harem final thoughts
This beautiful sex game is absolutely a slam dunk in our opinion. The fact that it's so well drawn, and that you can play the entire game on your phone or PC for free, is simply awesome. We don't really have a bad word to say about it.
Enjoy the world of gay hentai for free and from any device, and discover what could be your next sexual fantasy! Try Gay Harem for free today.
Pros
Beautiful hentai style graphics
Free to play
Totally uncensored
An amazing storyline that'll keep you hooked
Cons
The sound effects can become a little repetitive
SIMILAR GAMES