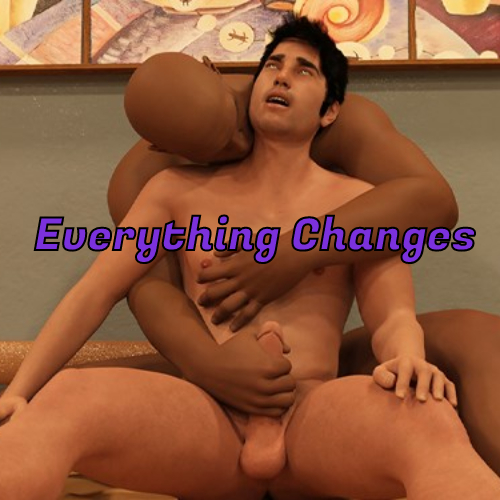 Whether you've already gone through the ordeal of coming out to your friends and family, or if the idea of everyone knowing you're gay terrifies you, you'll know that discovering your own sexuality is not an easy thing to do. As gay men, one of the hardest things we ever have to face is coming to terms with who we are—and Everything Changes knows this. This beautiful visual novel revolves around a man named Ethan and his journey of self discovery.
Join us as we take the plunge into this amazing sex game, filled with relatable moments and hot, hardcore sex. We'll discuss the story, gameplay, graphics and more, so don't miss out!
Everything Changes: what's it all about?
So as we've already made clear in the introduction, Everything Changes dives into some pretty hardcore themes and discusses things other sex games may not. As a lover of games with a good storyline, this game really appealed to me.
This 3D sex game is all about discovering that you're gay as a young man, what this means, and how you choose to express yourself as such. You'll meet loads of guys who are all into you, and realize that you're into them too. It's really a deep and beautiful porn game about the struggles gay men face, as well as discussing how you'll discover just how much you love gay sex.
What about the gameplay?
When it comes to gameplay, everything changes is a visual novel type game. Although visual novels are often in 2D hentai style, Everything Changes is in full 3D which is pretty special.
As the game opens, you take the role of Ethan, a young man with a girlfriend who's currently questioning his sexuality. You'll need to have sex with multiple men in order to confirm that you are in fact, gay.
Most of the gameplay revolves around meeting men, discussing your struggles with your sexuality in a dating-sim like style, and convincing them to have sex with you to help you figure yourself out. During the sex scenes, you can make choices like which positions and practices you'd like to try. You can choose to try fellatio, anal, anilingus, and even have orgies as the game progresses.
What are Everything Changes graphics like ?
The graphics in this game are pretty astounding. Granted, visual novels have the advantage of using many static images, but still, these images are stunning. The guys you meet in your journey to self discovery are all beautifully sculpted, with muscular torsos and huge cocks. The hand painted backgrounds and environments really add something to the scenes too, especially during sex.
We'd also like to mention the amazing soundtrack: the sound effects and moans of the guys you're having sex with are really something else, and add a lot of arousal to the whole experience.
Final thoughts on Everything Changes
It's so refreshing to play a game that isn't only super sexy and arousing, but that also talks about some interesting and difficult topics. Most gay sex games are simply sex simulators with hardcore BDSM sex and hot guys, but Everything Changes is more than that. If you're looking for something more than just sex, and a game that discusses subjects that may be close to your heart. This game is relatable for any gay man who's already had the issue of his sexuality, especially coming out.
What are you waiting for? Play Everything Changes today and help Ethan on his journey of self discovery.
Pros
Compelling and relatable story
Beautiful graphics
Free to play
Visual novel style storytelling
No download required
SIMILAR GAMES