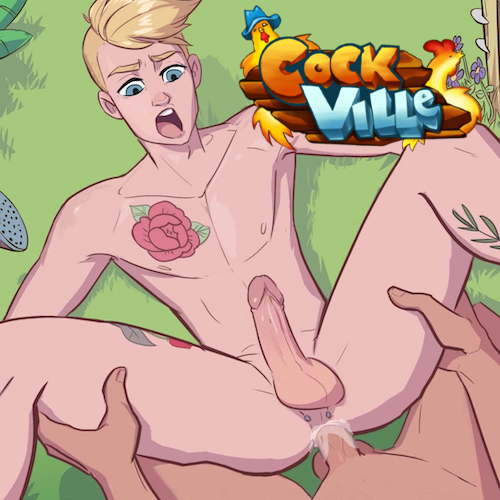 Have you ever wanted to grow crops, sell vegetables, live a down-to-earth farmer's lifestyle... but also have lots of gay sex? Because I know that's certainly my dream - and that's why I love Cockville. In Cockville, you'll have to get to know all the visitors to your vegetable stand at the market, and seduce them one by one. Don't worry, even the most conservative men among them will have trouble resisting your charms!
Read on to get all the information on this awesome farming / dating simulator, as well as our opinions and thoughts on the game.
Presenting: CockVille
CockVille is a farm simulator game, mixed with a dating simulator game. Now that might sound a bit weird, but trust me, it works! The point of the game is to successfully farm as many vegetables as possible, growing them to good sizes, and then to sell them to all the eligible and sexy guys that come to your vegetable stand - and then, you'll get the chance to seduce them.
As of right now, there are already 10 guys you can get to know and seduce in CockVille, but the developers are constantly adding new and exciting content!
How to play CockVille
Firstly, CockVille is entirely free to play and can be played in your browser, which is good news. When you start up the game, you'll be faced first of all with the challenge of starting up your vegetable farm. This is the farming simulation part of the game. You must build your farm from the ground up, and take good care of all your crops in order to attract more and more customers with your impressive merchandise.
When the time comes to sell your goods, that's when the fun really starts! As you talk to the different guys in the game, it turns into a dating sim. You are faced with multiple choice questions, and each question has a different answer in order to seduce the different men, who all have their own wants and desires. If you answer correctly, then the person you're talking to will reward you...
The sex part of CockVille is really well-designed. Every sex scene is different, and every guy wants to try something new with you, so you'll have no shortage of experimentation possibilities !
Sexy and horny guys in a beautiful hentai style
As you've probably already seen, this game is beautifully drawn in a fabulous hentai style. I personally really love the art style of CockVille, and can only recommend those of you who have doubts try it before you say it's not for you.
The guys in this game are willing to do pretty much anything, and they're all really horny. Satisfying them all is quite the task, especially when you already have the challenge of seducing them! Of the 10 hot guys you'll get to talk to, no two are the same: some are older, some are skinny, some are big bears... but they all share a love of good gay sex.
Although farming takes up a part of the game, no time is wasting in getting down to business: the first sex scene takes place within 15 minutes of starting to play, so don't be impatient, it's coming!
Final thoughts on Cock Ville
I expected to like this game, because on paper it sounds amazing. But I was wrong - I LOVE this game! It's truly a masterpiece, blending different styles of gaming together to make one amazing game full of intrigue, sex, and beautiful graphics.
If you like games such as Farmville and Stardew Valley, you'll really love adding the element of sex into the mix and having some naughty fun on the side. The gameplay is incredibly fun and fulfilling on all fronts.
Why not give it a go for yourself ? Play CockVille today and start growing the best and biggest veg the town has ever seen!
Pros
Combines two styles of gaming
Sexy and varied styles of men
Beautiful hentai style graphics
Free to play
A full and fun gameplay
Cons
You must be over 18 to play
SIMILAR GAMES