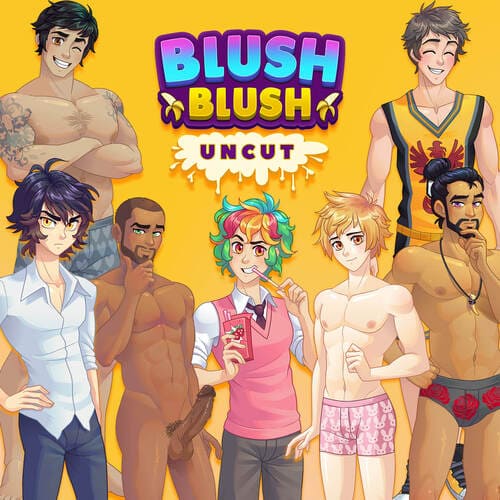 Picture this: you're having a fun day at the zoo, looking at the animals, and you notice that wow, there just happen to be quite a lot of super sexy guys around today! Well, this fun scenario soon turns to disaster in Blush Blush. This wonderful hentai game combines dating simulation with fun RPG gameplay and of course, lots of gay sex!
Read on to find out what happens in the story, how to play and what to expect, as well as get our full honest review on this game.
What is Blush Blush?
As we explained in the intro, Blush Blush is a fabulous hentai game in which you're exploring your city's zoo. The animals are all pretty cool, but what you keep noticing are how many sexy young guys are around today! Well, the game revolves around the events that transpire that day. You knock over a vial of magic potion, and who should get splashed by this potion if not all the sexy guys you were just looking at?
Once they've been splashed, the damage is obvious: they have now been transformed into half men, half animal creatures! The only way to turn them back into their regular selves is to seduce them each individually and make them fall for you. The minute they develop feeling for you, the curse will be lifted, and you can finally have sex!
This awesome game has so much to offer, and it's completely free! Safe to say, we're already hooked.
How to play
Blush Blush isn't a simple sex simulator like some other gay games. The game itself is a real delight to play, and involves lots of different facets. For example, you'll need to get a part-time job at the zoo to be able to spend as much time there as possible talking to the guys you cursed. Every time you talk to them, you enter a sort of dating simulator with multiple choice questions that'll help you get to where you want to be: in their pants, as it were.
Every one of these guys is different and needs to be approached differently in order to make him fall for you: don't be shy, try everything you have in your arsenal!
The game is also an inactive game, that means if you're tired of trying to seduce these men, you can take a break and come back later. During your absence, you'll have levelled up and made more money, which will make seducing them much easier.
If you're REALLY impatient, you can even use the "phone fling" mode, that allows you to make a quick booty call to a gay man in your area, much like Grindr in real life.
Blush Blush: a visually stunning hentai game
In this harem type game, one of the things you'll be stricken by straight away is the quality of the art and animations. These wonderfully drawn guys sit on beautiful hand-drawn backgrounds, and that's just during the visual novel style static image parts of the game.
Once you enter the sex scenes, you'll be blown away by the quality of the art and animation. For a hentai game, the different movements and ways in which these dudes please you are crazy. Trust me, i've rarely seen such a feast for the eyes when it comes to cartoon style art in a porn game.
Final thoughts
I really recommend this game to anyone and everyone who can give it a go. The gameplay is super fun and i spent hours grinding me job, meeting up with the different guys (having a few phone flings too!), and getting to know everyone. I didn't get bored, but when I needed a snack, I just left the game to level up without me—which it did!
So wait no longer, try Blush Blush today and discover what is – in my opinion – one of the best hentai games on the market.
Pros
Very diverse gameplay with different aspects
"Phone Fling" mode for a quickie
Inactive game for constant levelling up
Free to play
Beautiful hentai art and animations
No download is needed
Cons
Some of the sound effects can get repetitive
SIMILAR GAMES